H 2860 BP VitroLine Obsidian Black Oven
seamless design with FlexiClip telescopic runners and pyrolytic cleaning.
7-segment display with retractable controls – EasyControl
Minimal cleaning effort – Pyrolytic cleaning
Lots of room and flexibility – 76 l cooking capacity on 5 levels
Easy handling – FlexiClip telescopic runners
Protects against burns – touch-cool fronts
See Full Description
Description
Dimensions:
(H) 596mm x (W) 595mm x (D) 547mm
IMPORTANT:
Please measure your appliance cavity prior to purchase to ensure your chosen appliance will fit. A restocking fee may apply for returned appliances due to incorrect size purchase.
Model overview:
Glass inlay handle
EasyControl with retractable dials
clock with sensor-touch controls
7 functions
76 l capacity
5 rack levels
3 pyrolytic cleaning programmes
SoftOpen, SoftClose
1 pair of Flexi-Clip telescopic runners
2 PerfectClean trays
Click here
 for more product information.
Benefits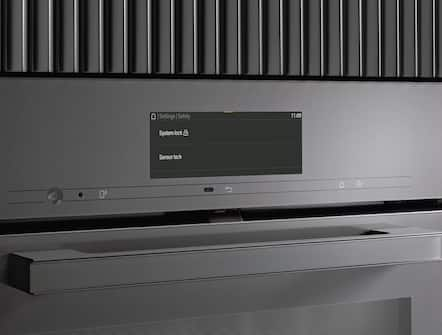 Safety functions 
Maximum safety in any situation 
Safety guaranteed: safety lock and auto switch-off provide reliable protection.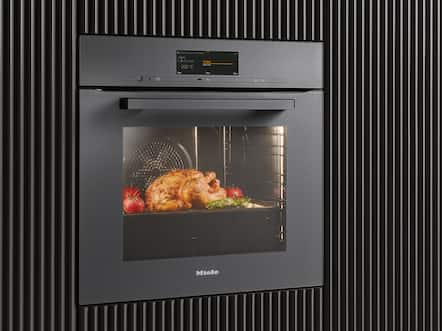 Touch-cool front 
The only thing that gets hot is the food 
Protection against burns: the appliance remains relatively cool – even on the outside of the door.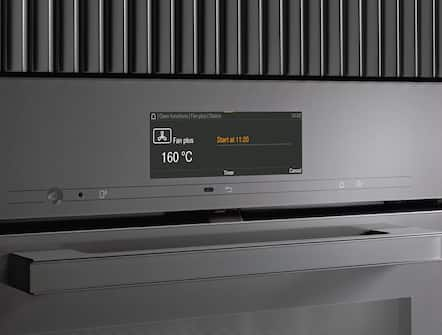 Timer functions 
Leave time management to your oven 
Always on time: programme the start time, finish time and duration of the cooking process or the minute minder.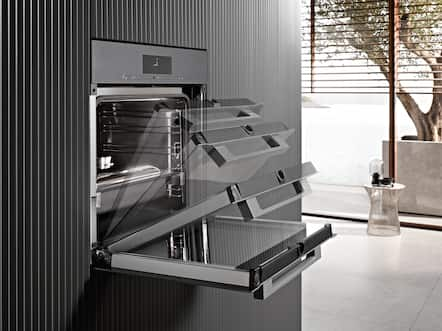 SoftOpen and SoftClose
Gentle door movement 
Refined and elegant: the door opens and closes with a gentle movement from beginning to end.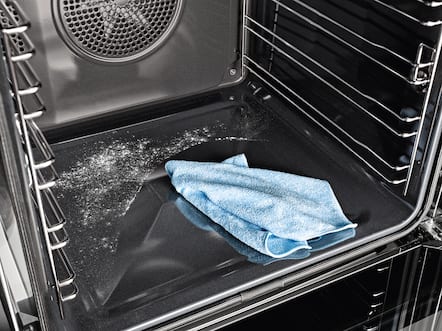 Pyrolytic cleaning 
Effortless cleaning 
The oven compartment cleans itself automatically at high temperatures. 
Specification
Timer functions
Programmable end of cooking duration
Programmable cooking duration
Actual temperature display
Target temperature display
Buzzer when desired temperature is reached
Recommended temperature
Door lock during pyrolytic cleaning
Baking tray with PerfectClean

2
Universal tray with PerfectClean

1
Baking and roasting rack without PerfectClean

1
Removable shelf runners (pair)

1
Grilling and roasting insert with PerfectClean

1
Oven interior volume in l

76
No. of shelf levels

5
Numbered shelf levels
Oven light

1 halogen spot
Temperatures min. in °C

30
Temperatures max. in °C

280
Niche width min. in mm

560
Niche width max. in mm

568
Niche height min. in mm

590
Niche height max. in mm

595
Niche depth in mm

550
Appliance width in mm

595
Appliance height in mm

596
Appliance depth in mm

568
Weight in kg

47
Total rated load in kW

3.6
Voltage in V

220-240
Frequency in Hz

50
Number of phases

1
Fuse rating in A

16
Length of supply lead in m

1.5
Replacing lamps

Customer
2 out of 2 (100%) reviewers recommend this product
Suitable Products
HUB 5001 XL
HBS 60
HUB 5001-M
HUB 5000-M
HBD 60-35
HBD 60-22
HBBR 72
HUBB 71
HGBB 71
HBBL 71
View more
You may also like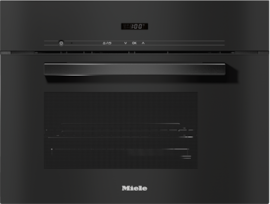 DG 2840 VitroLine Obsidian Black Built-in Steam oven

ESW 7010 Obsidian Black Gourmet Warming Drawer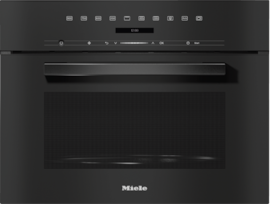 M 7244 TC VitroLine Obsidian Black Built-in Microwave oven
Featured