Steam Ovens with Microwave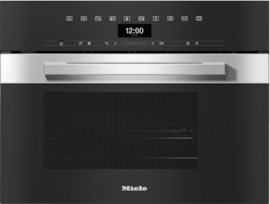 DGM 7440 PureLine CleanSteel Steam oven with microwave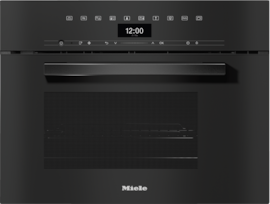 DGM 7440 VitroLine Obsidian Black Steam oven with microwave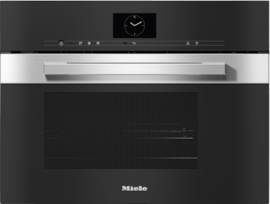 DGM 7640 PureLine CleanSteel Steam oven with microwave
Kitchen appliances made for living
Your kitchen is the heart of your home. As the place for preparing and sharing meals, entertaining or retreating to. Selecting the right kitchen appliances is key to maintaining a healthy and happy homelife. Discover our kitchen solutions that will make your life easier and more enjoyable in a surprisingly stunning range of ways.

Why choose Miele Steam Ovens with Microwave
Often when designing your kitchen, it's a choice between a steam oven or a microwave for the second niche. Well now, thanks to Miele – no longer do you have to compromise between the two! Our steam oven with microwave is a 3-in-1 appliance that functions as a microwave, a steam oven and a combination of the two.

For healthy cooking and rapid heat-up, our steam oven with microwave offers exceptional cooking results every time. If you are time poor, you can speed up the cooking process by almost 50% without compromising on the quality by using the combination mode, RapidSteam. This allows you to enjoy the nutritional benefits of steam cooking, with the speed and convenience of a microwave.
Additional features include:


Options of either DirectSensor or M Touch S controls
40 l capacity
4 rack levels
DualSteam technology
External steam generator
SoftOpen & SoftClose
Automatic programmes
Popcorn function
3 Steam Cooking containers
Glass tray
WiFiConn@ct, MobileControl, Miele@Home

If you're interested in other types of Miele ovens, be sure to browse our range of 60 cm and 90 cm ovens. We also offer 45 cm high steam and combi steam ovens, microwave and steam oven with microwave options. Find the right smart steam oven to suit your needs online today.
Become a Miele for Life member
As a Miele owner, consider joining our free benefits programme to access exclusive offers, VIP events and opportunities to win amazing prizes. Learn more about our Miele for Life members' benefits.