KS 4383 EDT CS Freestanding Refrigerator
Freestanding refrigerator with DailyFresh and DynaCool for a convenient side-by-side combination.
Spacious drawer with moisture control – DailyFresh
Uniform temperature distribution inside the appliance – DynaCool
Dishwasher-safe door shelves – ComfortClean
Handle-less design thanks to an integrated handle design
More space and convenience thanks to XL interior cabinet
See Full Description
Description
Dimensions: 185 cm (h) x 60 cm (w) x 67.5 cm (d)
IMPORTANT: Please measure your appliance cavity prior to purchase to ensure your chosen appliance will fit. A restocking fee may apply for returned appliances due to incorrect size purchase.
Model Overview
6 star energy rating (115 kWh/year)
399 l total volume
CleanSteel freestanding refrigerator
LED Lighting
Keep food crisper for up to twice as long - DailyFresh
Store food anywhere in the refrigerator - DynaCool
Door shelves are cleaned in the dishwasher - ComfortClean
Easy and effortless opening of refrigerators thanks to SideOpen handle
Food is chilled quickly thanks to SuperCool
SensorTouch electronic controls
Suitable side-by-side partner for FNS 4382 E edt/CS
Benefits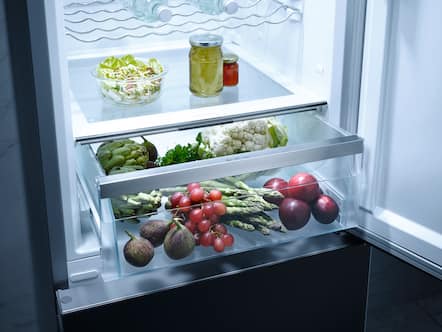 DailyFresh
Improved freshness for fruit and vegetables 
Fruit and vegetables stay fresh for up to 2 times as long: spacious drawers with ideal humidity levels.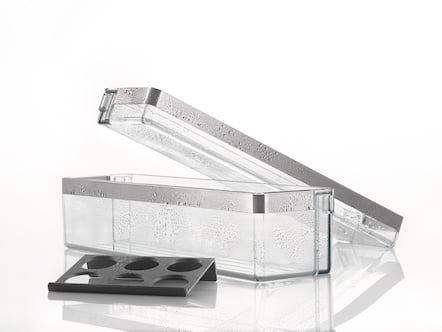 Exclusive to Miele
ComfortClean
Dishwasher-safe door shelves
Easy to clean: the high-quality door shelves can be cleaned easily in the dishwasher.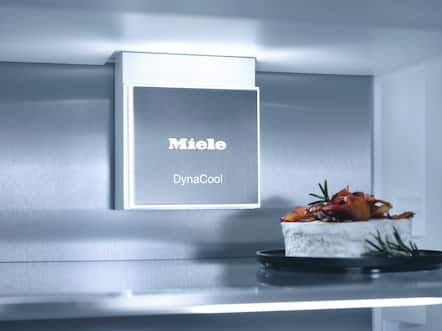 DynaCool
Ideal storage conditions for food and wine 
Even temperature distribution: a fan ensures excellent circulation and distribution of the cold air.
Specification
Niche depth in mm

550
Appliance width in mm

600
Appliance height in mm

1855
Appliance depth in mm

675
Weight in kg

70.2
Current consumption (mA)

1200
Voltage in V

220-240
Fuse rating in A

10
Number of phases

1
Frequency in Hz

50-60
Replacing lamps

Customer Service
Lock function
Acoustic door alarm
Optical door alarm
Operating concept

SensorTouch
Precise adjustment

Fridge temperature
Automatic SuperCool
No. of temperature zones

1
No. of shelves

7
No. of crisper drawers

2
Number of inner door racks for tinned food

3
Door rack for bottles

2
Door shelves

5
Casing colour

Silver
Front colour

Stainl. steel CleanSteel front
You may also like

FNS 4382 EDT CS Freestanding freezer
EVERYDAY KITCHEN PACKAGE OFFER*

KFN 4375 DD EDT CS Freestanding fridge-freezer
EVERYDAY KITCHEN PACKAGE OFFER*
Featured