Descaling tablets - 6 tablets
For ovens with Moisture Plus, coffee machines, steam ovens and the FashionMaster ironing system.


Thorough removal of deposits and limescale
Highly effective cleaning with gentle descaling
Fine-tuned formulation — Special Miele formula
No chemical residues after descaling
Optimum care for many years of reliability
See Full Description
Description
Limescale can seriously impair the performance of your appliances. That is why regular descaling with Miele descaling tablets is so important.

These tablets are specially formulated for the descaling programmes on Miele machines. Their formulation dissolves limescale and ensures the best care of materials used on machines.

Packet of six, suitable for Miele ovens with MoisturePlus, steam ovens, coffee machines and the FashionMaster ironing system.

*Not suitable for Pressure Steam Cookers Content

Please click here for more information.
Benefits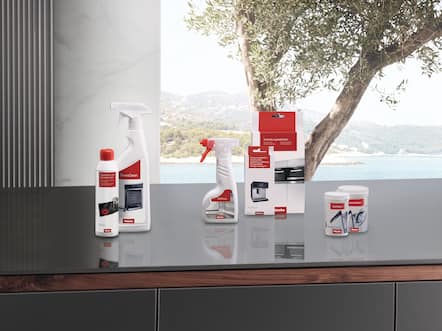 Miele Cleaning Products
Perfect results every time
The formula especially developed for Miele appliances stands for reliable, perfect results.
36 out of 39 (92%) reviewers recommend this product
You may also like
Featured