SEB 216-3 Powerbrush floorhead
Electrobrush with roller brush for thorough cleaning of heavy-duty carpeting (with cable).
The electrically powered roller brush also removes stubborn dirt
Motor-driven for evenly cleaning and brushing all depths of pile
Clip cable for easy retrofitting of cylinder vacuum cleaners
See Full Description
Description
• The SEB 216-3 PowerBrush floorhead requires power connection on the barrel (available on S53xx, S54xx & S57xx models)
• It has a electronically powered roller brush with a built-in motor for constant deep-cleaning brush rotation
• It is perfect for intensive cleaning of heavy carpets
• The electrically powered roller brush even removes stubborn dirt
• Powered by its own motor for deep cleaning for all types of pile
• Clip cable for easy retrofitting/all Miele cylinder vacuums

Please click here for more information.
Benefits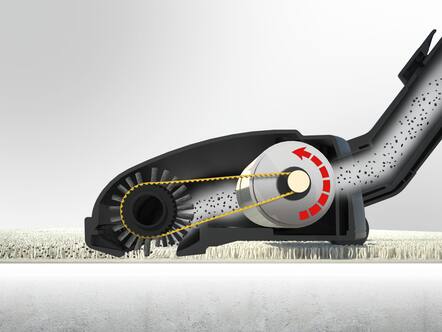 Electrobrushes
For deeply cleaned and beautiful carpets
Simultaneous brushing and vacuuming of your carpet. Cut pile and loops are actively raised.
1 out of 1 (100%) reviewers recommend this product